Targeted Minimum Loss-Based Estimation (TMLE) for Survival Analysis with Competing Risks
Authors: David Benkeser and Nima Hejazi
---
Description
survtmle is an R package designed to use targeted minimum loss-based estimation (TMLE) to compute covariate-adjusted marginal cumulative incidence estimates in right-censored survival settings with and without competing risks. The estimates can leverage ensemble machine learning via the SuperLearner package.
---
Installation
For standard use, we recommend installing the package from CRAN via
You can install a stable release of survtmle from GitHub via devtools with:
---
Issues
If you encounter any bugs or have any specific feature requests, please file an issue.
---
Example
This minimal example shows how to use survtmle to obtain cumulative incidence estimates with a very simple, simulated data set.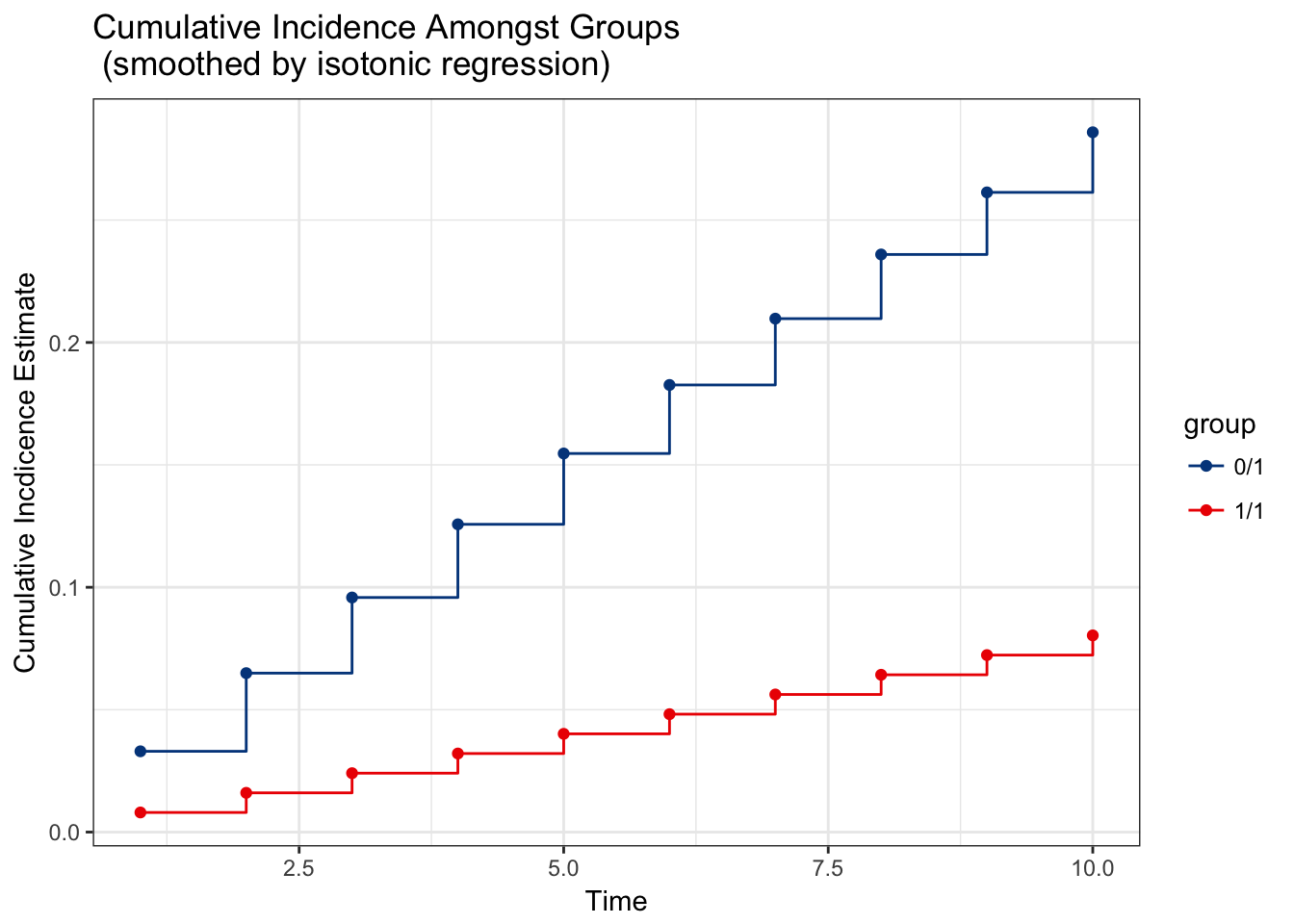 ---
Contributions
Contributions are very welcome. Interested contributors can consult our contribution guidelines prior to submitting a pull request.
---
Citation
After using the survtmle R package, please cite both of the following:
    @manual{benkeser2017survtmle,
      author = {Benkeser, David C and Hejazi, Nima S},
      title = {{survtmle}: Targeted Minimum Loss-Based Estimation for
               Survival Analysis in {R}},
      year  = {2017},
      howpublished = {\url{https://github.com/benkeser/survtmle}},
      url = {http://dx.doi.org/10.5281/zenodo.835868},
      doi = {10.5281/zenodo.835868}
    }

    @article{benkeser2017improved,
      author = {Benkeser, David C and Carone, Marco and Gilbert, Peter B},
      title = {Improved estimation of the cumulative incidence of rare
               outcomes},
      journal = {Statistics in Medicine},
      publisher = {Wiley-Blackwell},
      year  = {2017},
      doi = {10.1002/sim.7337}
    }
---